Adele and Jennifer Lawrence are truly living their best lives!
On Friday night, the A-listers decided to have themselves a wild girls' night at New York City gay bar Pieces in Greenwich Village, and it looked insane! Both Oscar winners partook in drinking games hosted by the venue's drag performers, which was thankfully caught on Twitter and Instagram!
Related: Spice Girls Fan Adele Shares Throwback Pic To Celebrate Group's Reunion!
Brita Filter explained the bestiez' arrival on her IG Story, saying:
"That time that I walked into my bar for my show and Jennifer Lawrence was sitting down, and she's like, 'We came to see your show.' And then Adele walks in and says, 'We heard that you were the best.' Aaaaaah! Aaaaaah!"
The New York queen also shared video to her stories, documenting J. Law tackling Adele over losing a game of musical shots! See a snap (below):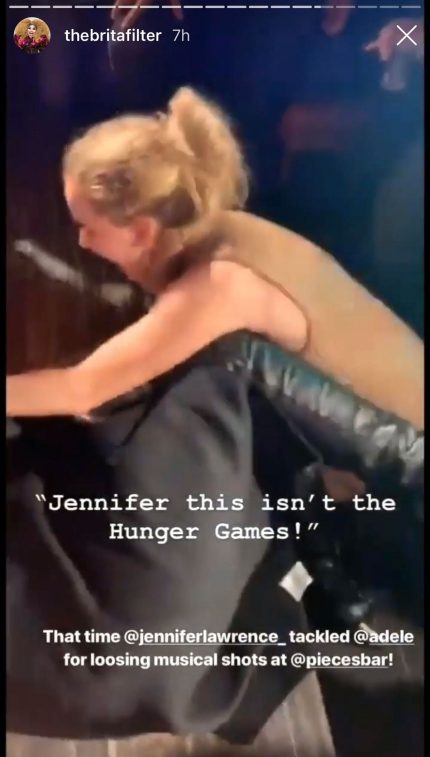 Lucky fans at Pieces went crazy for the 30-year-old singer and 28-year-old actress, too!
You can see some of the lit reactions (below):
I'M AT PIECES AND ADELE AND JENNIFER LAWRENCE ARE HERE LMFAOO pic.twitter.com/sQfzOcRJmh

— Joe (@JoeMichaelII) March 23, 2019
And @Adele is on stage at Pieces tonight. Oh boy, this is fun pic.twitter.com/e7fesvNIEI

— Papacito Bach (@papacitobach) March 23, 2019
While you were sleeping @Adele & #jlaw were at the gay bar living their best life! #adele #gaybar #nyc pic.twitter.com/UZeST9B9xj

— Jonathan Valdez (@JonathanValdez) March 23, 2019
Another wrote:
"Looool Adele and Jennifer Lawrence are partying at pieces 😂😂 Fridays have truly lost the plot"
Looool Adele and Jennifer Lawrence are partying at pieces 😂😂 Fridays have truly lost the plot

— Alp Ozcelik (@alplicable) March 23, 2019
So insane!!
The duo looked like they had a blast on what might have been a much-needed night out… or maybe as a belated engagement celebration??
As we wrote, Lawrence's rep confirmed early February that the starlet is engaged to art director Cooke Maroney, her boyfriend of about eight months! They only confirmed their relationship back in June, but when you know, you know, right??
And Adele was happy to joke about her friend's new relationship status, saying to her last night that she's not allowed to participate in drinking games because she's "f**king engaged."
"You're not even relevant to be here!"
The Hunger Games star responded right back, explaining that has "nothing to do with my drinking abilities!"
LOLz!
We can only hope the HIGHlarious duo make going out to gay bars on Friday nights a regular thing, only because we'd selfishly love to catch one of these outings!
Or we're always happy to get an invite next time!
What do U think about Adele and Jennifer's crazy night out?? Are you feeling jealous, too, or feeling inspired to round up your friends to hit up the bar??
Let us know your thoughts in the comments (below)!!
[Image via Apega/Adriana M. Barraza/WENN]
… Read more at perezhilton.com/jennifer-lawrence-adele-wild-night-gay-bar/